November is National Healthy Skin Month and you'll find advice available from many sources on everything from how to keep your skin from getting dry during the winter months to insights on indoor tanning.
Sponsored by the American Academy of Dermatology, National Healthy Skin Month is more than just the opportunity to increase your awareness of signs of skin cancer. It's the chance to practice common sense skin-healthy tips, including:
Wear sunscreen year-round
Eat a healthy diet rich in Omega 3s, whole grains and B vitamins
Protect your lips with SPF lip balm
Drink lots of water
De-stress as much as possible
Moisturize your skin
At Mansfield Plumbing, we believe you can also enhance the health of your skin by immersing yourself in a MicroDerm™ Therapeutic Bath.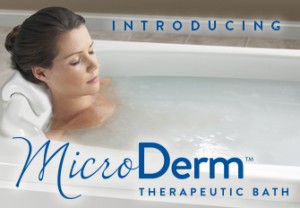 How does it work? The MicroDerm™ system silently immerses you in millions of magnetically-charged microbubbles that clean, exfoliate, soften and rejuvenate your skin leaving it feeling refreshed.  Your skin is softer, moisturized and clean when you step out of the tub … and you're much more relaxed!
Celebrate National Healthy Skin Month by treating yourself to a MicroDerm Therapeutic Bath in your home. Your skin will love you for it!