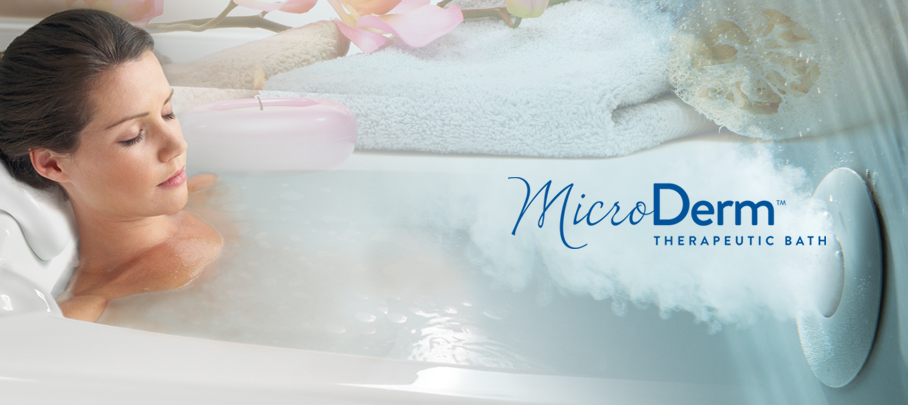 Mansfield Plumbing Products, LLC is excited to launch a brand new bathing experience.
The Mansfield® MicroDerm™ Therapeutic Bath combines the relaxing elements of bathing with therapeutic benefits that rejuvenate the skin. How does it work? The MicroDerm™ system silently immerses the bather in millions of magnetically-charged microbubbles that clean, exfoliate, soften and rejuvenate the skin leaving it feeling relaxed and refreshed.  It is offered in 25 popular Swirl-way® models in a wide array of shapes and sizes.
The benefits:
Relaxes the bather – millions of microbubbles embrace the bather helping them relax and release muscle tension.
Exfoliates skin – oxygen-rich microbubbles remove the outermost layer of skin leaving behind beautiful, hydrated skin that feels warm and moisturized.
Cleanses skin – the magnetic action creates a positive charge in the microbubble, and the massaging action lifts off dead skin and dirt from the skin.
Softens skin – up to 50% more dissolved oxygen molecules than in regular water to gently stimulate and soften skin.
Moisturizes skin – 100% of test participants* demonstrated improved hydration and moisture content in the upper layer of the skin.
Heats water – as microbubbles burst against submerged skin, heat is released to invigorate the skin surface and warms the water, increases the temperature and eliminates the need to add hot water.
Kills bacteria – kills the bacteria while conditioning the skin.
*Reference: Independent, third-party lab that specializes in efficacy studies.
Want to Learn More About MicroDerm™?
Click here to download the brochure.
Click here to download the sell sheet.
Click here to see available models.