With Mansfield's Protector® no-overflow toilet you no longer have to worry about the mess caused by a toilet-bowl clog, nor the unsightly holes of typical no-overflow toilets.
The Protector® keeps dirty toilet-bowl water in the toilet and off of your floor by draining excess water through an overflow system concealed within the bowl. Water that rises, if the toilet is clogged, drains directly into the drain line.
Our highly engineered PuraClean™ glaze makes the bowl easy-to-clean and bacteria resistant. The attractive design looks great in any bathroom, and the bowl height offers greater comfort, meeting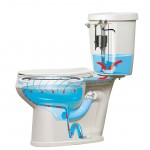 ADA requirements.
(CLICK IMAGES TO ENLARGE)
Unique Secondary Drain – Concealed within the bowl, a back-up drain directs excess water into the drain line.

Improved Styling – No unsightly holes, overflow system is hidden within the bowl.
Easy-to-clean Surface – Highly engineered PuraClean™ glaze finish is 48% smoother** than


the nearest competitor, making the bowl easy to clean and bacteria resistant.
3-inch Flush Valve Design – 3-inch opening delivers higher velocity for more powerful flush action—800 gram MaP*.
Simple to Install Construction – Fast, easy tank installation thanks to our SmartFasten™ System.
Ergonomic SmartHeight™ Bowl – 16-1/2-inch tall bowl is just the right height to make sitting and standing easier.
Want to Learn More About Protector®?
Click here to download the brochure.
Click here to download the sell sheet.
Click here to see the product page.
*Maximum Performance (MaP) testing is an independent testing protocol developed by public utilities to rate toilet efficiency and flush performance in the removal of solid waste. MaP grades toilet performance on a scale of 0–1,000.
** Mansfield Internal RIQ testing 2015