PERRYSVILLE, OHIO – On September 26, 2015, Mansfield Plumbing employee Dave Fletcher ran 26.2 miles in the Akron Marathon. He started training just 51 weeks before the event and ran his first marathon in a time that qualifies him to run in the Boston Marathon in 2017.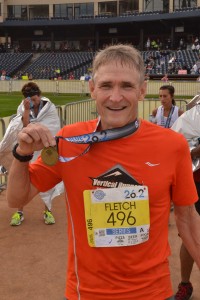 Fletcher, 63, finished the Akron Marathon in four hours, four minutes and 36 seconds. He began training when he got out of wind while bike riding with his grandchildren. He decided to run to get in shape. When he started getting good at it, he went to a local store to buy running shoes. That's when he joined a running club and got serious about the marathon.
"This is a life changing experience," says Fletcher, a resident of Wooster, Ohio. "My family and friends were surprised when I ran in all kinds of weather conditions, at night, and then joined a health club. Everyone's been extremely supportive. On the day of the Akron Marathon my family showed up wearing custom made shirts that read 'Fletcher Team' on the front and 'Boston Bound' on the back!"
Fletcher, the father of three sons, has worked at Mansfield Plumbing in Perrysville, Ohio for 30 years; the last 25 as a modeler in the Model Shop.
"I was a bit nervous about the race, so I just threw myself into my work at Mansfield," says Fletcher. "It requires a lot of thinking and we're always busy. It's both a rewarding and enjoyable career.
"My boss and co-workers were great about my training. They'd make sure I had enough time off to run about 40 to 50 miles a week. Before the race they encouraged me to keep eating carbohydrates and made sure I knew they were supporting me."
Just prior to the September race Fletcher ran 22+ miles, then he tapered down to prepare for the marathon. Leg cramps at night were solved by drinking pickle juice. Bike rides with his four grandchildren became easier. And, pasta every night for a week built up his reservoir of strength.
"The day of the race, mile 25 was the hardest," says Fletcher. "It was a steep hill and my hamstring cramped. I had to stop, stretch it out and then start running again. I thought the delay meant I wouldn't qualify for the Boston Marathon, so that was tough."
Once 1,471 runners crossed the finish line, Fletcher discovered that his time did qualify him to run in the Boston Marathon in 2017. "Completing my first marathon is one item I've now crossed off my bucket list," says Fletcher. "But there's still one big item left to go … and that one is located in Boston!"
Mansfield Plumbing precision manufactures millions of pieces of sanitaryware and bathware each year at its facilities in Perrysville and Big Prairie, Ohio and in Henderson, Texas. Founded in 1929, Mansfield Plumbing, which is owned by Corona, is a leading producer of top-quality, high-design, performance plumbing fixtures and fittings for use in residential, commercial and institutional markets. For more information, visit www.mansfieldplumbing.com or call 877-850-3060.
###