PERRYSVILLE, OHIO – Four generations of Edmondson men have had careers at Mansfield Plumbing since the company started in 1929. Many years they worked at the company simultaneously, but in all cases they proudly continued the fa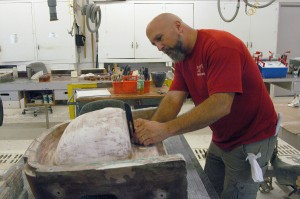 mily tradition of making first-class plumbing products.
"Mansfield Plumbing has many opportunities for career growth, so it's not surprising our family has aligned with this reliable company," says Rod Edmondson, model shop manager at Mansfield Plumbing and a 32-year employee. "Weldon, my father, was here from 1954 to 1995, so we worked together for many years. He started at the tool room in the brass shop and worked his way up to senior engineer in product development.
"During his early years with the company my dad worked alongside my grandfather Kenneth, who was here from 1956 to 1966. My grandfather served on the engineering team and became a liaison between production and manufacturing. Our fourth generation Mansfield employee is my son Kolton. He worked here this summer as college help, which was a great opportunity for him."
The "family affair of service" at Mansfield Plumbing extends deep for the Edmondson clan. Members of the family have served a total of 231 years at the plumbing products manufacturing company.
"My grandmother Pauline worked in the cafeteria here for awhile," says Edmondson, a resident of Loudonville, Ohio. "All of my siblings have worked here. My sister Debbie worked in the brass shop for 10 years, my brother John worked in tool and die at our Big Prairie location for 20 years and my brother Greg worked in different casting departments for 20 years.
"Extended members of the Edmondson family have also been part of the Mansfield team. My uncle Dave was a supervisor in the brass and kilns area for 43 years. My cousin Eric worked in different casting departments and the mold shop for 15 years. And, my cousin Rick has been here since 1976 and works in the mold shop."
According to Edmondson, more than just a convenient location influenced his family members to make their careers at Mansfield Plumbing. "When I joined Mansfield, it felt like you were joining an elite team," says Edmondson. "Getting hired here was something to be proud of. It still is. Especially during the past decade as our company has changed and grown. The leadership team here keeps doing one first class thing after another."
Edmondson says career growth opportunities are plentiful at Mansfield Plumbing. "I started in clean-up and as a parts cleaner," says Edmondson. "I've advanced during my career here as a screw machine operator, case maker, modeler and now as the model shop manager.
"This is the most rewarding department in the plant for me. The talented people who work with me are continually developing new products and seeing the fruits of our labor. We get to see projects from beginning to end and truly feel vital to the company's overall success."
An integral part of the Mansfield team, Edmondson heads up the company's Rec Club, which provides recreational opportunities to company employees and retirees. He helps coordinate everything from bowling events to monthly 50/50 raffles to autumn shooting outings for the club's 500+ members.
"I've always been proud to say I work at Mansfield Plumbing with a great group of people," says Edmondson. "My family and I can't imagine what life would have been like without the important role this company has played in our lives."
Mansfield Plumbing precision manufactures millions of pieces of sanitaryware and bathware each year at its facilities in Perrysville and Big Prairie, Ohio and in Henderson, Texas. Founded in 1929, Mansfield Plumbing, which is owned by Corona, is a leading producer of top-quality, high-design, performance plumbing fixtures and fittings for use in residential, commercial and institutional markets. For more information, visit www.mansfieldplumbing.com or call 877-850-3060.
###