PERRYSVILLE, OHIO – Whether you're in the mood to celebrate or wish to simply slip away into a peaceful retreat, having the option of Chromatherapy can enhance any bathing experience.
"Chromatherapy allows a person to select a specific color — or rotate through a rainbow of colors — to create a definitive mood when bathing," says Haley Davis, product manager for Mansfield Plumbing. "The light selected changes the entire bathing experience. For example, if someone is in a romantic mood they may wish to select red, the color of warmth and love. Or, if a person is in a peaceful, tranquil mood, the color blue could be selected."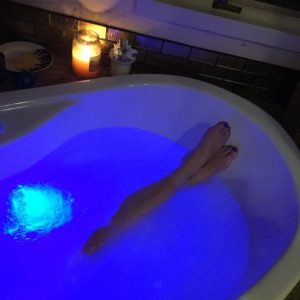 Color trend forecaster Kate Smith with Sensational Color firmly believes that experiencing color throughout the day in a variety of ways enhances everyday experiences.
"Sitting in an office space painted a shade of orange can energize some workers," says Smith, chief color maven at Sensational Color. "Similarly, a person who is more sensitive to their surroundings will be calmer and thus more productive in a seafoam green office, because of how that color influences the space.
"In large and small ways we surround ourselves with colors that make us feel good — or how we aspire to feel — every day. From the colors of our clothing to the colors of flowers we select for our gardens and the colors of our furnishings and accent pieces in the home, color plays a powerful role in our lives."
At the end of the day, when it's time to relax in a whirlpool, or air bath tub, selecting a Chromatherapy color to match a mood — or help change it — can be a rejuvenating experience.
Available as an option in many tubs from Mansfield Plumbing, Chromatherapy offers bathers the following color options to meet their mood:
White – peaceful, pure, clean, positive and modern
Green – refreshing, optimistic, calming, natural, tranquil
Yellow – cheery, energetic, warm, optimistic
Red – excitement, intensity, warmth, love
Blue – peaceful, calm, tranquil
Aqua – soothing, sense of home, uplifting
Magenta – passionate, energetic, contentment, inspiring
"From relaxing to rejuvenating, colorful water in the bath truly transforms the entire experience," says Davis. "Along with bath-enhancing options like in-line heaters and fully adjustable jets, consumers should investigate all the tub choices that can improve their bathing time."
Mansfield Plumbing precision manufactures millions of pieces of sanitaryware and bathware each year at its facilities in Perrysville and Big Prairie, Ohio and in Henderson, Texas. Founded in 1929, Mansfield Plumbing, which is owned by Corona, is a leading producer of top-quality, high-design, performance plumbing fixtures and fittings for use in residential, commercial and institutional markets. For more information, visit www.mansfieldplumbing.com or call 877-850-3060.
###