Stressful day racing after the children? Crazy day at the office? Strained muscles from a too-vigorous workout at the gym? Not to worry. Mansfield Plumbing whirlpools and tubs can quickly ease the stresses of any busy day. Our customizable features allow you to create an in-home mini spa treatment.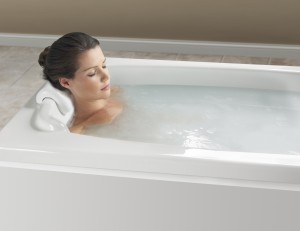 "Mansfield tub products stand out from the competition in many ways," says Haley Davis, product manager for Mansfield Plumbing. "Our Swirl-way® whirlpools feature a variable speed motor that allows you to select the pump speed desired instead of settling for a tub with one average speed.
"This means if you need strong power from the whirlpool jets to release the tensions in aching muscles, it's there at your fingertips. But, if your desire is for a slower, easier flow of water you can adjust the jets to achieve that. It's all up to you."
In addition to have customizable power in the Swirl-way tubs, Davis reports that all of the whirlpools (plus those in the Pro-fit® line) have fully adjustable jets. This gives you the ability to adjust the volume of water coming out of the multiple jets to focus individual attention on aching parts of the body … including the back.
"A mother who has been lifting toddlers all day or a biker who has exceeded his comfort level of cycling on an outing, will appreciate the benefits of focusing individual jet strength and attention to specific hurting areas of the body," says Davis. "The ability to adjust jet streams of water does not come with all whirlpools. This is a special feature that helps set Mansfield products apart in the marketplace."
To further enhance and customize the Mansfield whirlpool experience, homeowners can order chromatherapy mood light systems, in-line heaters to keep bath water warm no matter how long they soak, and other specialty accessories.