Our last blog focused on water savings you can gain by doing your research and selecting toilets marked with the WaterSense® label. Now it's time to talk about style!
There are both one- and two-piece toilet options, with choices of round or elongated shaped bowls. Depending on your style preference, you'll want to select the location of the flushing handle (which can be on the front, side or top of the tank).
Next up, consider the color toilet you want. Traditional choices include white, bone and biscuit. And, don't forget the toilet seat! Whether you go with a traditional seat or a SmartCloseTM seat that closes gently and quietly, you want to make the right selection for your family.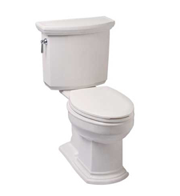 As you're narrowing down your selection, look at the styles of toilets with both exposed and concealed trapways. The trap performs the important function of removing waste from the toilet bowl during the flushing system. In some toilets you can see the outline of where this plumbing feature occurs at the base and back of the toilet, whereas in others the design completely covers the trapway.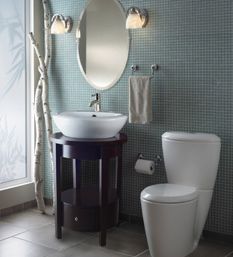 And finally, think about the height of the toilet you select. This is typically measured as the height from the floor to the top of the toilet seat. The standard toilet height is anywhere from 14-3/4 to 15-1/2 inches. SmartHeightTM toilets are available in heights of 16 inches to 17-1/4 inches, providing more comfortable access for users.
"As we age, it's more difficult to get up and down from a low-height toilet," says Andrea Miller with Mansfield Plumbing. "Taller toilets are easier to use for many people, including those who are taller themselves or have physical challenges.
"Selecting a new toilet is all about personal choices that work best for you and your family. There are sleek-looking designs for contemporary spaces along with more traditional designs. Whether you're looking for clean, classic lines or soft curves, there's the ideal toilet for everyone."