When Eric Young got a summer job making $6.75 an hour in 1987 at Mansfield Plumbing, he had no idea it would turn into a life-long career opportunity. Now, 28 years later, Young is the processing manager for the company that gave him his first job, with 140 people in the departments reporting to him.
"This is the career I didn't know I'd have," says Young, a resident of Loudonville, Ohio. "I thrive on new challenges, and at Mansfield I've always been allowed to embrace new opportunities. It's hard to believe I've been here for almost three decades because the time has really flown by."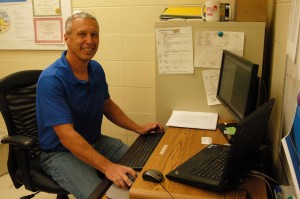 Throughout his high school years, Young worked the summers in clean-up, slip and glaze, and the grade and pack areas at Mansfield. After gaining a degree at the University of Toledo and working a few jobs, he returned to Mansfield in July of 1993 as a full-time employee.
"I wanted a managerial opportunity with growth, and it turned out to be in my own backyard," says Young. "The experiences I've had working on the floor have helped me understand the numbers on a spreadsheet and how they affect employees on the plant floor."
Young was partially influenced in his career choice by his family's history and involvement in Mansfield Plumbing. There are four generations of Young family men who have worked a total of more than 50 years for the company. His grandfather worked as an hourly employee, and his father, Gary Young, retired approximately 12 years ago as the company's vice president of human resources. One of his sons, Caelin, also worked as summer help at the plant before heading to college.
"My situation is not unique here at Mansfield," says Young. "If a person shows the desire and willingness to take on different roles and challenges, then the sky is the limit."