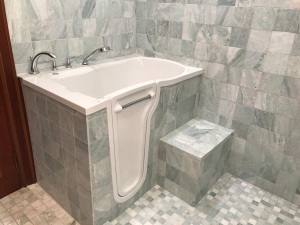 Some plumbers enjoy a good challenge. Aaron Colaluca, President of Smithfield Plumbing & Heating Supply, Co. Inc., is one those plumbers.
When Colaluca received a request for a combination walk-in tub and shower that didn't have an "institutional feel" to it, he dug in.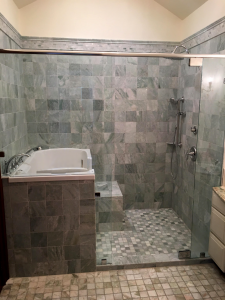 A second generation wholesaler and a licensed plumber, Colaluca started by researching ADA tubs available from Mansfield Plumbing. Once he identified the RestoreTM Walk-in tub as the best solution for his customer, his next task was to think outside of the box to create a unique combination shower experience.
"My client didn't want the hospital-type feeling of an ADA-certified tub to dominate the new bathroom design," says Colaluca. "To give the tub a 'softer feeling' I tried thinking outside the box and decided to take off the outer shell and rebuild the base. This allowed me to tile around the base to match the tile throughout the entire shower. Then I added a 'sitting bench' outside the tub.
"With that accomplished we had to make the shower fit next. The access door for the Restore combination air and whirlpool tub is now positioned across the front with the seat next to the tub. We added a hand-held shower in the tub and incorporated the full shower outside the tub area. Both of these fit perfectly in the designated space, making it more like an in-home spa."
Coming up with creative solutions is something Colaluca specializes in on a daily basis. With five locations in New Hampshire and Rhode Island, Colaluca and his father Rico decided in 2005 to expand their company's business by opening a state-of-the-art showroom called Your Kitchen and Bath Center. Then, in 2016 Smithfield Supply created, built and opened a hands-on interactive training room. The dedicated space offers employees and their customers the most updated training on plumbing, heating and HVAC products.