Look closely at some of the home renovation projects tackled by Nicole Curtis on HGTV's Rehab Addict and you'll see Mansfield Plumbing toilets in the bathrooms.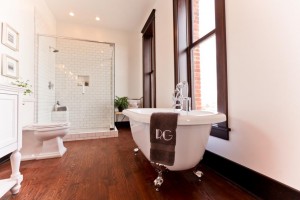 In her recent Rehab Addict Detroit project of the 1870s Ransom Gillis house, Curtis used Brentwood toilets from Mansfield in two bathrooms for the project.
A self-taught home rehabber and designer, Curtis has a passion for saving old houses. In Rehab Addict, her series that airs on DIY Network and HGTV, she harnesses her experience with interior design, contracting and real estate to rebuild neighborhoods one house at a time in the Detroit and Minneapolis markets!