Creating a quality product is hard work. For some companies, when a piece comes off a manufacturing line with the wrong imprint, a slightly scratched frame or a blemish, the flawed item is oftentimes designated for the recycling bin.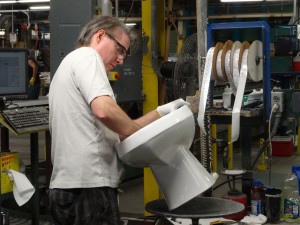 At Mansfield Plumbing in Perrysville, Ohio, where more than a million toilets and sinks are crafted each year, millions of pounds of fired scrap and spent plaster molds are recycled annually. Instead of going into landfills, the material is used as road aggregate.
Additionally, the small-town facility is making a big difference by recycling 285,000 pounds of cardboard and cartons, 4,000 pounds of paper, 1,000 pounds of plastic and 5,200 wooden pallets each year. The company also saves about four million gallons of water a year through its water conservation program designed to reduce water usage by 10 percent at its manufacturing facility.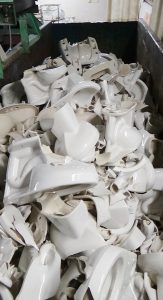 According to the environmental team at Mansfield Plumbing, the goal is to recycle and reuse as much raw material as possible. Along with being aggressive in recycling hard materials, the company also salvages the waste heat from its kilns and operates with gas consumption lower than industry standards. A lighting project designed to use wattage more effectively saves energy in the plant.