We've taken our best toilet and made it even better! Our single flush SummitTM toilets now feature the easy-to-clean PuraCleanTM glaze, improved styling including a decorative metal trip lever and an extended warranty.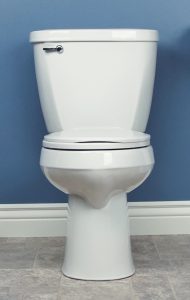 Summit toilets all feature the Mansfield three-bolt tank-to-bowl SmartFastenTM system to prevent leaking and rocking, plus high performance MagnaFlushTM flushing technology. The toilets can flush 1,000 grams MaP and come in three low water consumption options: 1.6 Gpf, 1.28 Gpf and a dual flush of 1.1/1.6 Gpf.
Multiple configurations of the Summit line include 13 models featuring four bowl configurations: round front, round front SmartHeightTM, elongated front and elongated front SmartHeight. All models feature the PuraClean glaze finish that is 48 percent smoother than the nearest competitor, making the bowl easy to clean and bacteria resistant.
Made in the USA, the stylish Summit toilets can be used in both residential and commercial projects. A video showcasing enhanced Summit products can be found at https://youtu.be/SU6Vo5r6hmc.