The new Brentwood® high efficiency toilet (HET) with a WaterSense® rating is now available!
The traditional style 1.28 gallons per flush (Gpf) toilet comes with a concealed trapway and elongated bowl. Compliant with ADA standards, the Brentwood HET SmartHeight TM toilet has a 16-1/2 inch bowl height and a MaP rating of 800 grams.
"The addition of a 1.28 Gpf Brentwood toilet adds another option for anyone looking to install the Brentwood Suite of tubs, lavatories and toilets," says Adriana Miller, product manager with Mansfield Plumbing. "We introduced this suite with the 1.6 Gpf toilet, and now there is an HET version available, providing more choices in this product line."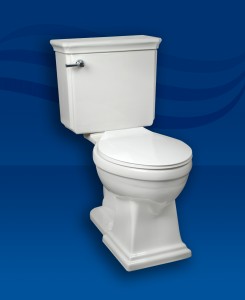 The Brentwood HET also features a pilot-operated anti-siphon fill valve and MagnaFlush high performance flushing technology with a three-inch flush valve. Trip lever options include chrome, satin nickel and Sicilian bronze. The units come in biscuit and white.
"The introduction of Brentwood HET is especially good news for people in states that require 1.28 Gpf, like California and Texas," says Miller. "Residents in these areas can now enjoy the performance and style attributes of the Brentwood toilet in a water-efficient unit."