Take a minute to contemplate making your skin more healthy … just by taking a bath.
Not an ordinary bath, but a MicroDermTM Therapeutic Bath. Our MicroDerm bath equates to an in-home spa treatment. It silently infuses bathwater with millions of microbubbles to help you relax, unwind and feel rejuvenated.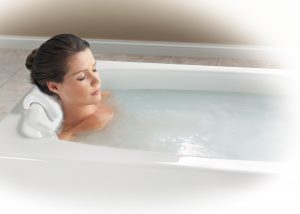 MicroDerm provides a stimulating bath that makes skin feel softer and more energized. Liquid film technology super-saturates the bath with up to 50 percent more dissolved oxygen molecules than in regular bath water to gently stimulate and soften skin.
"Just trying this bathing experience once totally hooks a person," says Davis. "It's incredible how clean and soft this bath leaves the skin. Independent testing has been done and the results are impressive. One hundred percent of test participants with the MicroDerm demonstrated improved hydration and moisture content in the upper layer of the skin after a ten-minute immersion.
"This bathing encounter is completely unique. Tiny oxygen-rich bubbles burst quietly on the skin to help clean and hydrate while exfoliating the skin's outermost layer."
Available from Mansfield Plumbing in the company's Swirl-way® product line in 25 models with tub unit sizes of 60″ x 32″ to 72″ x 42″, the MicroDerm comes in rectangular, oval and corner shapes. There are 25 different tubs, including both one- and two-person versions. Tub colors include white, bone, biscuit, almond, black, ice gray and British khaki. Trim finishes are available in white, bone, biscuit and polished chrome.