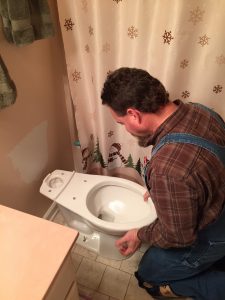 For more than two years I've had the pleasure of learning about, promoting and writing stories related to Mansfield Plumbing products. I've arranged for toilet donations to charities, television shows, Building Homes for Heroes and other special projects. This month it was my turn to see for myself the impressive impact Denali toilets can have in the home.
My two older toilets were "water hogs" with stubborn water stains in the bowls that could not be removed. These toilets were flat out ugly. The other aggravating problem was that the "waste" would go down fine, but each time I flushed, the toilet paper would return to the bowl, requiring a second flush.
The team at Mansfield convinced me it was time to test out the Denali … and I'm glad they did.
Plumber Richard Hodges had the honor of pulling out the old toilets and installing the newer ones. After owning his plumbing business for 26 years, Richard knows toilets. And, as he informed me while I peppered him with questions during the Denali installation, he truly appreciated the simplicity of the Denali.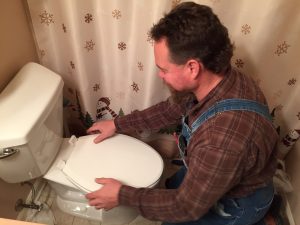 "There are some toilets that are so contorted and complicated that they can take three hours to install," says Richard. "The Denali was a dream. Each toilet took just 30 minutes to install. This was a simple project with great results."
Richard's right. The entire project started at 8:45am and he was cleaned up and out the door by 10:00am … and that's after installing two Denali toilets.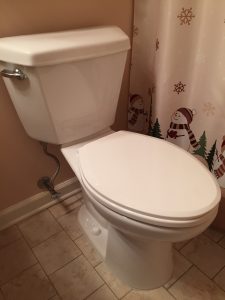 My reaction? They look great … the higher seat is oh-so-right for a 6'1″ person … and the efficiency of the power flush is amazing. The proof? No more "returning toilet paper" when I flush these powerful Denali toilets!