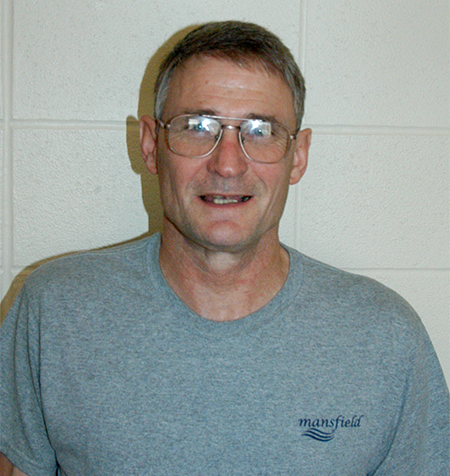 At our manufacturing plant in Perrysville, Ohio, we have many talented and hardworking men and women.  With few bathroom-fixture manufacturers still operating plants in the U.S., many of our manufacturing team's skills are becoming quite rare in this country.
For instance, our modelers are true artists who go through years of training before they become proficient at creating the molds that make each plumbing fixture.  Once our designers have come up with a new toilet, the modelers are the ones who take that vision and bring it to life.
I'd like to introduce one of our three modelers.  Dave Fletcher has been with us for 28 years, and his modeling talent is truly tops.
Q:  How did you become a modeler?
A:  I first learned about Mansfield because my brother in law worked here, so I applied. I was hired as a caster, but wanted to become a modeler after my boss took me over to the modeling shop.  After I learned there was a job opening in the model shop, I took the test and was picked for the job.  I then spent the next five years learning casing and blocking, and then moved into modeling and blocking.
Q:  What is important for modelers to do? 
A:  For us modelers, it's important to make sure the fixture has the correct thickness, radius, look and performance.  We use measuring tools and radius gauges to make sure our models are perfect.
Q:  How have you seen modeling evolve since you started at Mansfield?
A: A year or two ago, we hired a 3D modeler, and will soon hire a second.  He's already designed two molds, and we've already cased them and have them in product.  However, I don't think hand modelers like me will ever cease to exist because we do lots of alterations.  I think it'll take both 3D and hand modelers to create the best models.
Q:  Can you share how you create a model? 
A:  It takes weeks to make sure a model is accurate.  If a new design is similar to a past model, we take the existing block mold and make adjustments to it.  A model is about 12.5 percent larger than a piece after it's gone through the firing/kiln process, so I have to make sure the final mold will have the correct dimensions and shape.  In the rare instance where we can't use an existing mold to help create a new piece, I create the mold by hand from scratch. I start with a big piece of plaster and carve the model out using drills, saws and other special tools.  I created one of the toilet tanks by hand from scratch.
Q:  What's happening right now at Mansfield?
A:  We're very excited about our company. We're in the midst of our second expansion in Perrysville.  We're hiring more people and we're bringing in new casting technologies and processes.
Q:  What do you like most about being a modeler?
A:  We like that it's never boring, that it's hands on and you have to be creative.  I don't necessarily feel like I'm an artist, but a lot of people view us as artists.  We get a sense of satisfaction from completing a project.
Do you have any questions for Dave?  Leave them below.