On January 30, 2017, Mansfield Plumbing employee Ron Kline marked 52 years of service with the company — 18,980 days — with a perfect attendance record.
At the age of 72, Kline has no anticipation of retiring. He enjoys his work, is blessed with good health and wants to keep on trucking — literally. As a truck driver for the sanitaryware and bathware company, Kline can travel between 350 to 500 miles a day making customer deliveries of toilets, sinks and tubs.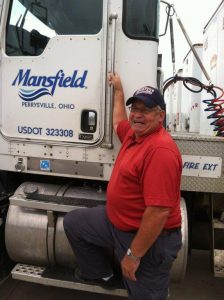 "I love talking to our customers, being on the road and working for this company so why would I retire?" says Kline, a resident of Perrysville, Ohio. "My health has always been really good and this is a great team to be a part of, so I'm going to keep working as long as possible!"
Hired on January 30, 1965 at the age of 20 as a clean-up person at the Mansfield manufacturing facility in Perrysville, Ohio, Kline relishes his work and his family. The father of 11, grandfather of 38 and great-grandfather of eight, Kline is keeping a family tradition going strong at Mansfield Plumbing.
"During my lifetime I've seen two of my children work at Mansfield, three of my brothers and a variety of other family members," says Kline. "This place is part of all of us."
Married for 52 years to his wife Lois, Kline has been actively involved in his community his entire life. He coached basketball and softball at the high school level for decades and is a member of the Mohican Area Community Fund.
Kline spent his first 18 years with Mansfield as an inspector/grader of sanitaryware products as they came out of the kiln. "I checked for cracks and blemishes to make sure the quality was there for each and every piece that went out the door," says Kline. "About 34 years ago I decided to try driving a truck. That's been a terrific job because I've been able to make deliveries to every state east of the Mississippi River.
"For awhile I was shuttling product from our plant to our warehouse. Now I'm back to making deliveries to customers throughout Ohio. On any given day I could be in Dayton, Columbus or Cincinnati. This is a great job that allows me to meet with our customers. I'm planning on staying healthy enough to continue for several more years!"