Born between 1946 and 1964, there are about 76.4 million baby boomers in the United States— and they're all approaching or at retirement age. Fortunately, Mansfield Plumbing offers more than 75 toilets, sinks and tubs that are designed to accommodate the special needs of people as they age.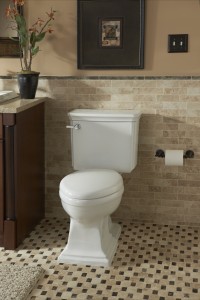 "Aging baby boomers are a large audience that will need bathroom products that comply with ADA standards to make their lives safer and more comfortable," says Jean Dimeo, a Certified Aging in Place Specialist (CAPS). "Taller toilets that are easier to get up from, pedestal sinks that allow wheelchairs and walkers to come right up next to, and walk-in tubs that allow easy in-and-out access are all examples of products that people may need in their bathrooms as they grow older."
Mansfield Plumbing offers a selection of 54 SmartHeight toilets in a variety of styles. The company also has 20 pedestal, under counter and wall mounted sinks (including a designated wheelchair sink) that comply with ADA requirements for accessibility.
"Transitioning your bathroom to meet your needs in the future doesn't mean a homeowner has to give up style," says Adriana Miller with Mansfield Plumbing. "The reason we offer so many products that meet ADA requirements is because we recognize that homeowners want their replacement bathroom products to be stylish while filling a functional need for the changes in their lives."