Let's face it … we're all getting a little older. As we age, tasks that used to be easy become a bit more challenging … like getting in and out of a bathtub.
Rest easy. Mansfield Plumbing has the perfect product to make it safer and easier to get into your tub.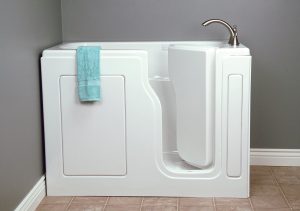 Our cast acrylic RestoreTM ACR Walk-In Tub boasts a low 7″ entry threshold, 17″ high ADA-compliant seat and easy-to-access cable-operated drain.  Available as a bathtub, whirlpool, air bath, combination whirlpool and air bath, or MicroDermTM Therapeutic Bath, Restore ACR is IAPMO approved and is manufactured in the U.S.A.
"We've made walk-in bathing experiences easier and more comfortable," says Haley Davis, product manager with Mansfield Plumbing. "There are 10 different models of the Restore ACR and they all feature a non-rusting door hinge and handle, water-tight inward swinging door, textured slip-resistant floor, and a high seat that allows the bather to remain upright while being completely submerged.
"From an aesthetic standpoint, the Restore ACR offers a smooth, glossy appearance that won't fade, and it's easier to clean than many other surfaces. When you consider the optional heated seat and backrest plus the standard features of these units, the Restore ACR is ideal for any home setting."
The white Restore ACR walk-in tubs come in a 51-1/2″ x 30″ x 40″ size and fit through a standard 32″ bathroom doorway. Removable front and end panels allow easy access to the mechanics of the tub. A unique ozonator on the whirlpool and combination bath safely emits ozone into the water lines of the unit to eliminate the growth of bacteria. The units are all backed by a lifetime warranty on the door seal, a 10-year warranty on the shell and a five-year warranty on the mechanics.