Four generations of Edmondson men have had careers at Mansfield Plumbing since the company started in 1929. Many years they worked at the company simultaneously, but in all cases they proudly continued the family tradition of making first-class toilet fixtures, sinks and plumbing products.
"Mansfield Plumbing has many opportunities for career growth, so it's not surprising our family has aligned with this reliable company," says Rod Edmondson, model shop manager at Mansfield Plumbing and a 32-year employee. "Weldon, my father, was here from 1954 to 1995, so we worked together for many years.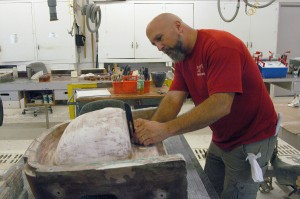 "During his early years with the company my dad worked alongside my grandfather Kenneth, who was here from 1956 to 1966. Our fourth generation Mansfield employee is my son Kolton. He worked here this summer as college help, which was a great opportunity for him."
The "family affair of service" at Mansfield Plumbing extends deep for the Edmondson clan. Members of the family — including Edmondson's grandmother, siblings, uncle and cousins — have served a total of 231 years at the plumbing products manufacturing company.
Edmondson says career growth opportunities are plentiful at Mansfield Plumbing. "I started in clean-up and as a parts cleaner," says Edmondson. "I've advanced during my career here as a screw machine operator, case maker, modeler and now as the model shop manager.
"I've always been proud to say I work at Mansfield Plumbing with a great group of people. My family and I can't imagine what life would have been like without the important role this company has played in our lives."