Sleek designs, easy-to-clean exteriors and small-space-friendly features are just three reasons why today's homeowners are becoming more interested in one-piece toilets.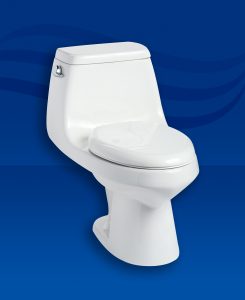 "For homeowners with a small bathroom a one-piece toilet can be a space-saving advantage," says Adriana Miller with Mansfield Plumbing. "And, you don't sacrifice style with a one-piece toilet. Because the tank and toilet bowl are molded as one piece, there's almost a sleek, modern aspect to the style of many one-piece toilets."
According to Miller, the seamless transition between the base and the tank has another advantage: easy cleaning.
"There are no nooks or joint areas where dirt can hide on a one-piece toilet," says Miller. "This makes exterior cleaning quicker and easier for homeowners. Another advantage is that installation generally goes faster for a one-piece toilet, since a plumber does not have to maneuver and secure the toilet bowl and then do the same for the toilet tank."
Mansfield Plumbing offers one-piece toilets in the Aegean style featuring an elongated front toilet bowl and a color-match SmartClose toilet seat. The Aegean model 705NS features a 1.6Gpf/6.0 lpf low water consumption while the Aegean ADA  model 708 has 1.28 Gpf /4.86 lpf low water consumption. The Aegean ADA also has a 16-5/8 inches high SmartHeight bowl for easy access and maximum comfort.
"These one-piece toilets include high-performance MagnaFlush flushing technology and a two-inch glazed trapway," says Miller. "The toilets feature a three-inch flush valve and pilot-operated anti-siphon fill valve. A side-mount, chrome-plated metal trip lever handle complements the sleek design of the toilet. And, the toilet comes in white, biscuit and bone to accent any bathroom setting."