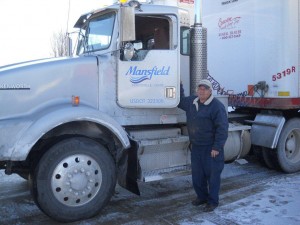 On January 30, 2015, Mansfield Plumbing employee Ron Kline reaches a career milestone most people would never dream of — 50 years with the same company — and with a perfect attendance record.
Hired on January 30, 1965 at the age of 20 as a clean-up person at the Mansfield manufacturing facility in Perrysville, Ohio, Ron is still going strong. With no thoughts of retirement in his future, the father of 11 and grandfather of 38, relishes his work for the company.
"I enjoy the people and what I do, so why should I consider retiring?" says Kline, who also owns a family farm in the Loudonville area of Ohio. "This company has been a great place to have a career and it's been good to my entire family.
"Right now my son Jeff and my daughter Julie are both working at Mansfield, along with my brother, Elmer. Two other brothers, Richard and Jerry, recently retired from the company. Together the Kline family has about 220 combined years of service at Mansfield."
Ron spent the first 18 years with Mansfield as an inspector/grader of sanitaryware products as they came out of the kiln. "I checked for cracks and blemishes to make sure the quality was there for each and every piece that went out the door," says Kline. "About 32 years ago I decided to try driving a truck. That's been a terrific job because I've been able to make deliveries to every state east of the Mississippi River. Nowadays I mostly deliver to our customers in Ohio and shuttle product from our plant to the warehouse. I'm happy meeting with our customers and interacting with all the Mansfield people."
Married for 50 years to his wife Lois, Ron has been actively involved in his community his entire life. He coached basketball and softball at the high school level for decades and is a member of the Mohican Area Community Fund.
"I'm basically a happy, healthy person which has allowed me to work so long without a sick day," says Kline. "I'm very blessed. With 38 grandchildren there are lots of family activities to get involved in, so it keeps me busy. But retirement isn't even an option … I really enjoy my job and working for Mansfield is a huge part of my life."
What Mansfield leaders think about Ron:
"We wish we could clone Ron. He shows up every day and throughout the entire day he is committed to being part of the solution."
Jim Morando, President of Mansfield Plumbing
"Ronnie's is basically 'the face of Mansfield Plumbing.' He is reliable and hardworking.  We wish all employees had his integrity and work ethic. I am humbled to be able to say I am his supervisor."
Mike Addair, Supervisor at Mansfield Plumbing
"As a truck driver, Ron is in touch with many of our customers and positively represents our company. He's extremely dedicated to Mansfield and is one of the most well-liked employees we have. I think the entire Kline family has been a great asset for us — those who have retired and those who are still working within our four walls!"
Teri Reid, Distribution Manager at Mansfield Plumbing