The rain may be coming down outside, but that doesn't mean you have to settle for a fast shower inside. Take time to stretch out, relax and soak in a Mansfield bath.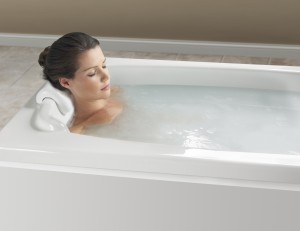 Here are five great options we offer for slipping away into a quiet, soothing bath at the end of a long day:
Soaking Tubs – Ergonomically designed and significantly deeper than standard bathtubs, a soaking tub allows full body support and deep immersion into comforting waters.
Whirlpool Tubs – Precision-aimed jets of water can relax and rejuvenate the body in a whirlpool bath. Strategically-placed jets target different parts of the body for deep tissue massage.
Air Massage Baths – While whirlpools circulate water from the bathtub to massage the body, air baths inject streams of air into the bathing well, surrounding the body with relaxing bubbles. Choices include vigorous hydrotherapy massages and softer, more soothing baths.
Microbubble Tubs – New generation of bathing experiences for tension-riddled people. The MicroDermTM Therapeutic Bath silently infuses bathwater with millions of microbubbles to help a bather relax, unwind and feel rejuvenated. Oxygen-rich bubbles burst quietly on the skin to help clean and hydrate while exfoliating the skin's outermost layer.
Walk-in Tubs – If getting in and out of a tub is a challenge (or your client thinks it might be in the future) a tall walk-in tub with an inward swinging door is the ideal solution. Created with an ADA-height seat, the Restore tub provides a deep well for bathing with options for air massage and whirlpool jets.