John Barbour, the second generation owner of the family-owned and operated business, Union Mechanical in Ft. Myers, Florida, has won the grand prize of a 2016 Harley-Davidson® Road King® motorcycle in the 2016 Summit Sweepstakes: Road to Freedom.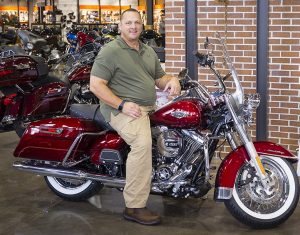 The nationwide sweepstakes, sponsored by Mansfield Plumbing Products, was open to thousands of licensed plumbers and contractors purchasing Summit toilets between May 1 and September 30, 2016. Barbour, who took his wife Libby on the first ride of the motorcycle that was presented on December 6, 2016, still can't believe he won the grand prize.
"I never win at drawings, so I was truly surprised," says Barbour. "Everyone here was excited for me and maybe just a little jealous."
Barbour and his 20 employees purchase their plumbing needs from Hughes Supply Ft. Myers. Gio Giraldo, management trainee with Hughes Supply, remembers the winning sale that earned Barbour the motorcycle.
"John came in looking for a top quality toilet," says Giraldo. "His company had been purchasing Alto® toilets but this time he was set on a competitor's toilet. Then I talked him into trying a Summit toilet. That one decision got him a great toilet … and the incredible Harley-Davidson motorcycle!"