Independent and plentiful in numbers, Baby Boomers are a major part of America's housing outlook. With more than 76 million people born between 1946 and 1964, Baby Boomers are either currently in retirement or planning for retirement — and their living arrangements are a primary consideration.
A key room requiring changes as people grow older is the bathroom.  From adding grab bars to removing slip-hazard throw rugs, there are many easy changes homeowners can tackle to make their lives easier and safer.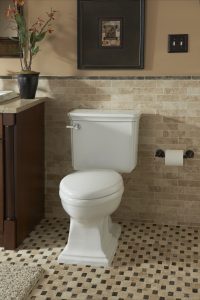 "People choosing to stay in their current homes as they age can make small changes to make their bathroom living space more comfortable," says Adriana Miller, product manager with Mansfield Plumbing. "The simple task of swapping out a standard toilet for a higher SmartHeightTM toilet allows a person to more easily access the toilet. Grab bars installed on the walls can also help someone get up and down easier from the toilet."
Another bathroom change that can be made is to replace a standard bathtub with a walk-in tub. A low seven-inch entry threshold, a 17-inch high ADA-compliant seat and easy-to-access cable-operated drain all make the RestoreTM ACR Walk-In Tub a strong candidate for aging Baby Boomers. Available as a bathtub, whirlpool, air bath, combination whirlpool and air bath, or MicroDermTM Therapeutic Bath, Restore ACR has a water-tight inward swinging door, textured slip-resistant floor, and a high seat that allows the bather to remain upright while being completely submerged.