California's epic drought has focused nationwide attention on saving water during today's 2015 Earth Day events. From washing machines to dishwaters to bathing, the home is a key area for personal water usage. According to WaterSense®, the U.S. Environmental Protection Agency program, toilets alone account for almost 30 percent of residential indoor water consumption.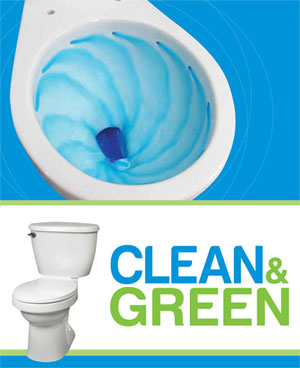 "Every time a toilet is flushed, water is used to remove the waste from the bowl," says Adriana Miller, product manager for Mansfield Plumbing. "WaterSense rated toilets use just 1.28 gallons per flush (GpF) or less, as opposed to some older, inefficient toilets that use up to 3.5 Gpf.
"Manufactured to be water efficient, WaterSense rated high efficiency toilets (HETs) save water in the home, which can help our environment, and reduce yearly water bills for consumers. It's a win-win situation."
WaterSense seeks to protect the future of our nation's water supply by offering suggestions for using less water with water-efficient products. Low-flow toilets earning the WaterSense label — like many offered by Mansfield Plumbing — have been certified to be at least 20 percent more efficient without sacrificing performance.
Miller recommends homeowners visit the Water Savings Calculator to determine just how much water and money a family can save by investing in a WaterSense rated toilet with a powerful flushing system. For example, a family of four can potentially save 16,206 gallons of water each year (with an average five flushes a day per person) when installing a 1.28 Gpf toilet over a 3.5 Gpf toilet. That equates to about $81 in savings. When installing a 1.0 Maverick or Quantum toilet, the figures drop even further, to savings 18,250 gallons of water yearly or about $91 in water bills.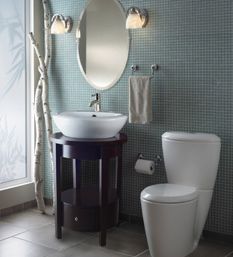 "For many areas of the country, it's not about the cost savings, but about the fact that there simply isn't enough water availability," says Miller. "Taking the step to invest in HETs makes good sense for communities, the environment and for homeowners."
Miller points out that several states (including California and Texas) mandate the use of WaterSense rated HETs for all new residential and commercial construction. A "water drain" on the environment comes when older toilets are not replaced with newer low-flow toilets.
"WaterSense has estimated that if all old, inefficient toilets in the United States were replaced with WaterSense labeled models, we could save 520 billion gallons of water each year," says Miller. "That's impressive. It's roughly the amount of water that flows over Niagara Falls in about 12 days. This change to low-flow toilets is something that every homeowner can do right now to help save water and celebrate Earth Day every day throughout the year."
Mansfield offers a wide variety of toilets that meet or exceed the WaterSense standards. These include the 1.28 Gpf Alto, Summit, Cascade, Aegean, Quantum, Enso, Waverly, Barrett, Montclair and Essence toilets plus the 1.0 Gpf Maverick and Quantum toilets.