What does it take to create a kid bathroom? Here are a few kids bathroom ideas that children and their parent will love!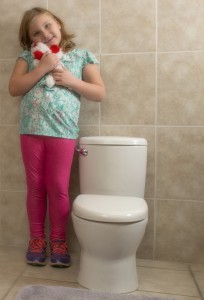 Start with a juvenile toilet from Mansfield Plumbing. The round front includes a bowl that's just 11-1/4 inches high, making it easy to access for children. The "Elementary toilet" includes a custom made "slow close" toilet seat (the SmartCloseTM seat) to prevent slamming and banging once children are finished going to the bathroom.
"The Elementary is a great kids bathroom accessory," says Adriana Miller with Mansfield Plumbing. "This is a high-efficiency toilet so it saves water with just 1.28 gallons per flush. Plus, it's the perfect height for children to easily access, making it a life-saver for parents!"
Other tips to creating a kids bathroom include using a step stool with handles to make access to the sink easier and adding removable kids bathroom wall art to make the bathroom a fun place. If possible, create a theme of the kids bathroom decor with unique towels, wastebaskets and bath toys. Consider an ocean, beach or animal theme. When added all together, a kid-friendly bathroom can make the whole family smile!