As part of the 2016 Summit Sweepstakes: Road to Freedom, Mansfield gave away five Milwaukee® 9-Tool Combo Kits and 25 Outback Steakhouse® $100 gift cards. Thirty-one prizes were given out to winners nationwide. The more Summit toilets purchased during the sweepstakes timeframe, the more chances licensed plumbers and contractors had to win a prize.
Wholesalers were also encouraged to participate in a 2016 Scratch N' Win promotion that ran in conjunction with the 2016 Summit Sweepstakes. Every time a wholesaler sold a Summit toilet during the promotion and entered their customer for a chance to win in the sweepstakes, they received a Scratch N' Win card.
More than 1,700 Scratch N' Win cash prizes were awarded during the promotion with John Landolt, showroom manager at Wholesale Supply in Cleveland, Tennessee winning the mega $5,000 cash prize.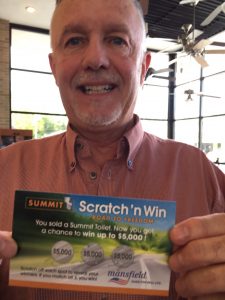 A 42-year employee at Wholesale Supply, Landolt has been selling Mansfield products for as long as he can remember. "I've won the $25 scratch off before and someone else here has won $250 but I never thought I'd win the $5,000!" says Landolt. "I kept shouting 'I DID IT' and everyone got excited. Now I'm going to pay off some bills and maybe take a cruise with the prize money!"