May is Home Improvement Month — the ideal time to make upgrades to both the interior and exterior of your home.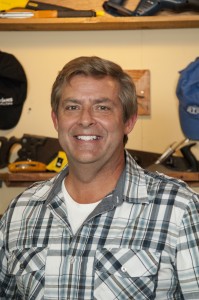 "Home Improvement Month is the ideal time to consider updating your roof, adding a deck or replacing a toilet," says Allen Lyle, co-host of the Today's Homeowner with Danny Lipford radio show.  "Don't think of it as splurging on a new tub or privacy window. Instead, know that every positive change you make to your home adds to its overall resale value."
In the 2016 Cost Versus Value Report issued by Remodeling magazine, 30 popular remodeling projects were evaluated. The study shows that, on an average, homeowners with mid-range priced homes can expect to recoup 91.5 percent of their investment when replacing a garage door or about 71.7 percent cost recouped on a roof replacement.
With these insights and motivation in mind, here are five "projects with payback" you can consider tackling during Home Improvement Month to enhance your living space:
Project #1 – Replace a garage door. This is probably the hardest working door in your home. You enter your house through it several times a day, so update it with a style that reflects your home's character. Consider a dependable American Tradition SeriesTM steel garage door from Haas Door® that combines elegant craftsmanship with durability. These carriage house style garage doors come in solid or woodgrain colors with unique overlay colors and details so you can personalize the door to your home.
Project #2 – Install a water-saving toilet. Low-flow toilets earning the WaterSense® label are certified to be at least 20 percent more efficient without sacrificing performance. That means a 1.28 gallon per flush (Gpf) toilet, like a Summit 1.28, can potentially save a family of four 16,206 gallons of water each year compared to a 3.5 Gpf toilet. Calculate your savings at the Water Savings Calculator on the Mansfield Plumbing website to determine just how much water and money your family can save by investing in a WaterSense rated toilet with a powerful flushing system.
Project #3 – Upgrade to a designer privacy window. Tired of too-close neighbors looking into your home? Decorative privacy windows from Hy-Lite® solve that problem. Replace existing windows in the bathroom and other rooms with eclectic Baroque, Mission, Prairie or Metro windows in the Home Designer CollectionTM to add style and privacy to your home.
Project #4 – Invest in a microbubbling tub. Turn your bath into an at-home spa treatment simply by adding a MicroDermTM Therapeutic Bath to your home. Millions of oxygen-rich microbubbles infuse the water. The results are a tension-free experience that leaves you feeling relaxed and rejuvenated. Mansfield Plumbing offers the MicroDerm experience in 25 different models … with a size, style and color to enhance any home décor.
Project #5 – Get a new roof. It protects your family and your home, so don't take your roof for granted. Evaluate it every year, and, if it's time for a replacement, consider a long-lasting, low-maintenance synthetic shake or slate roof from DaVinci Roofscapes®. The realistic-looking shingles resist impact, fire and insect damage for peace-of-mind. Plus, having this sturdy roof overhead can often result in reduced homeowner insurance premiums each year!