Higher focus on aging-in-place products for the bathroom. Faster availability of products for plumbers. Continued focus on high performance, low consumption toilets. These are just some of the top trends for 2016 in the plumbing products industry identified by leaders of Mansfield Plumbing.
"Strong focus on high performing, low water usage products is a trend that is here to stay," says Jim Morando, president of Mansfield Plumbing. "Both plumbing professionals and homeowners want 1.0 and 1.28 Gpf toilets that are water efficient while still providing high levels of performance when it comes to mass removal. This is actually more than a trend. It's a way of life that's becoming the norm for our industry."
Another trend the industry will be living with for decades to come is the large number of Baby Boomers moving into the next stages of their lives. The U.S. Census Bureau reported in 2014 that there were 76.4 million Baby Boomers currently living in the United States. Given those numbers, Morando believes that ADA-approved sanitaryware and bathware products are a category that will soar in the coming years.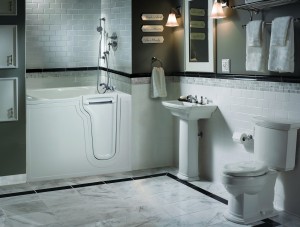 "There's a huge population of homeowners who are proactively seeking products that will make the aging process easier for them," says Morando. "Taller toilets that are ADA-approved and walk-in tubs will be the winners for this category of people. It's all about making life easier as we get older. Products like a SmartHeightTM toilet or a Restore walk-in tub will continue to have increased sales as Baby Boomers make aging-in-place purchase decisions in the years to come."