SINGLE FLUSH CONFIDENCE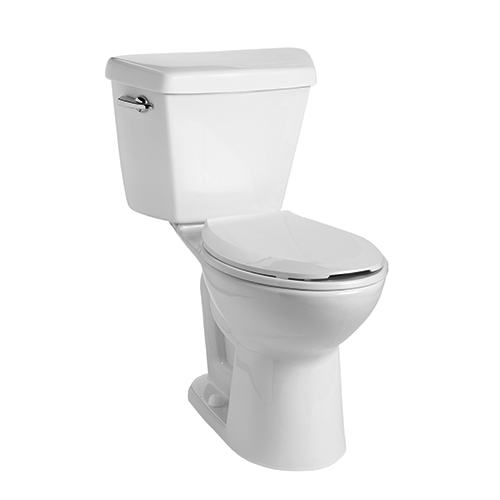 With Mansfield's Denali™ Power Flush Toilet, you'll never have to nervously wonder if all your business will be taken care of—your bowl will be left clean and sanitary.
The Denali™ is engineered to maximize hydraulic energy, with the water sitting higher in the tank to create 20% more head pressure when flushed, reaching the highest velocity possible as it blasts through two dual side jets almost instantaneously into the bowl. This pushes solid waste further down and out the drain line exceeding required code, and creates an incredible vacuum that removes waste out of the bowl.
Our highly-engineered PuraClean™ glaze further makes the bowl easy to clean and bacteria resistant.
The attractive design will grace the decor of most any style bathroom, from traditional to contemporary.
INCREDIBLE POWER
Independent testing* proves the flushing system (higher water level, 3-inch flush valve, and dual side jets) can push 1,200 grams of waste, which is 20% higher flushing performance than the highest
industry rating awarded.2
INCREDIBLE DISTANCE
Captures all particles and carries waste down the drain line 1.5 times further than code requirement— a full 60 feet.
EASY-TO-CLEAN SURFACE


The highly-engineered PuraClean™ glaze finish is 48% smoother than the nearest competitor***, making the bowl easy to clean and bacteria resistant.
SIMPLE, 2-BOLT INSTALLATION
Our SmartFasten™ System provides a sturdy connection between tank and bowl to prevent rocking and leaking.
ERGONOMIC SMARTHEIGHT™ BOWL
16-1/2″ tall bowl is just the right height to make sitting and standing easier.
Click here to view the brochure.
Click here to view the sell sheet.
Click here to view the video.
Click here to view the product page. 
* Mansfield Independent Testing, 2015.
** Maximum Performance (MaP) testing is an independent testing protocol developed by public utilities to rate toilet efficiency and flush performance in the removal of solid waste. MaP grades toilet performance on a scale of 0-1,000.
*** Mansfield Internal RIQ Testing 2015.