Mansfield Plumbing has introduced the new 475HE SuburbanTM high efficiency urinal featuring an integral trap siphon jet. The urinal uses just 0.5 Gpf/1.9Lpf and complies with ADA requirements for accessibility.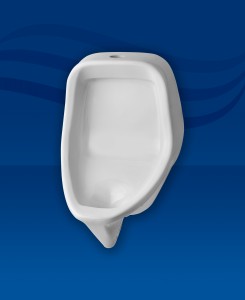 Made in the U.S.A., the white 475HE Suburban comes complete with a 3/4-inch top spud and is backed by the Mansfield limited lifetime warranty.
"This wall-mount urinal provides plumbers with a high efficiency, dependable unit for commercial settings," says Adriana Miller, product manager for Mansfield Plumbing. "The 475HE Suburban also works with a 1.0 Gpf flushometer valve and weighs approximately 35 pounds. The sleek design of the urinal, plus its high efficiency features, make it ideal for a wide variety of situations."
The 475HE Suburban measures 14-5/8″ x 21-3/8″ x 14-3/8″. The urinals are now available nationwide from Mansfield Plumbing.