James Blue of Fayetteville, N.C. is driving happier this holiday season — in his new 2015 Jeep Wrangler Sport 4×4. The senior service technician with Wade Hardin Plumbing won the Jeep as the grand prize in the Ultimate Summit Sweepstakes sponsored by Mansfield Plumbing.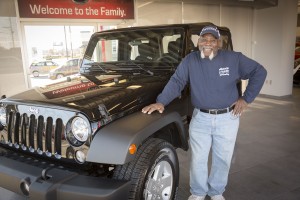 "I could hardly keep my feet on the ground because I was so excited when I found out," says Blue, a resident of Fayetteville, N.C. "I've installed Mansfield Plumbing products all my life and have them in my own home. To win this grand prize is simply phenomenal."
Blue was entered in the sweepstakes by his plumbing wholesaler, Hubbard Pipe and Supply, during the summer promotion. For every Summit toilet he purchased for his customers, he was entered for a chance to win.
"Our company buys quite a few toilets each week, with the majority of them being Mansfield products," says Blue. "Even though we purchase their products consistently I never dreamed I'd win this incredible prize."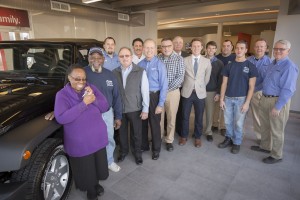 After working for 32 years at Wade Hardin Plumbing, the team there says the prize couldn't have been awarded to a more deserving employee. "James has an incredible work ethic," says Wade Hardin, owner of Wade Hardin Plumbing in Fayetteville, N.C. "He's an asset to our team and we're thrilled he's receiving the Jeep. Even the morning he got the Jeep, he kept looking at his watch because he didn't want to be late to an afternoon plumbing job!
Mansfield Plumbing sponsored the Ultimate Summit Sweepstakes from June 1 – September 30, 2015 for licensed plumbers and contractors purchasing Summit toilets through their local wholesalers. In addition to the grand prize of the Jeep Wrangler, there were five Weber Genesis Gas Grills, 10 prizes of $100 gift certificates to Texas Roadhouse and 50 prizes of folding buck knives awarded.