On September 26, 2015, Mansfield Plumbing employee Dave Fletcher ran 26.2 miles in the Akron Marathon. He started training just 51 weeks before the event and ran his first marathon in a time that qualifies him to run in the Boston Marathon in 2017.
Fletcher, 63, finished the Akron Marathon in four hours, four minutes and 36 seconds. Running the marathon is like running the length of Manhattan … then turning around and running back! When not running, Fletcher works at Mansfield in Perrysville, Ohio. He's been with the company for 30 years; the last 25 as a modeler in the Model Shop.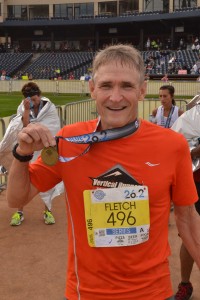 "My boss and co-workers were great about my training," says Fletcher. "They'd make sure I had enough time off to run about 40 to 50 miles a week. Before the race they encouraged me to keep eating carbohydrates and made sure I knew they were supporting me.
"The day of the race, mile 25 was the hardest. It was a steep hill and my hamstring cramped. I had to stop, stretch it out and then start running again. I thought the delay meant I wouldn't qualify for the Boston Marathon, so that was tough."
Once 1,471 runners crossed the finish line, Fletcher discovered that his time did qualify him to run in the Boston Marathon in 2017. "Completing my first marathon is one item I've now crossed off my bucket list," says Fletcher. "But there's still one big item left to go … and that one is located in Boston!"