Want to add style to an average bathroom? Just add a lavish lav. Whether an undercounter, pedestal, vanity top or self-rimming design, the addition of a luxurious sink can quickly upgrade the look of any bathroom.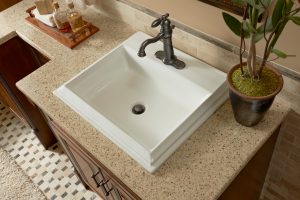 At Mansfield Plumbing, 12 uniquely-styled lavs are available in our Affordable Style Designer Series of suites. The Brentwood Lav boasts a traditional design and is available as either a square tiered under-counter sink or a drop-in sink. The Barrett Lav also comes in a traditional design with a square pedestal sink and a drop-in sink.
For a soft, transitional style, the Essence self-rimming lav is clean and timeless. A pedestal sink with optional towel bar offers a functional and distinct appearance. The Enso Lav features a contemporary style with sleek, smooth lines. Sink options include a standing pedestal and a drop-in sink, plus an above counter oval vessel with a wood vanity.
The Montclair Lav has an eclectic personality — the perfect balance between traditional and modern elements — and comes in a pedestal style or a drop-in sink. Finally, the Waverly Lav offers clean, crisp lines in a traditional English-inspired design for both its pedestal and drop-in sinks.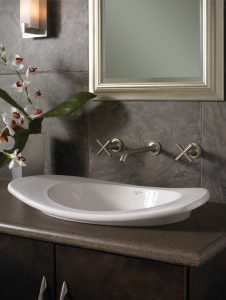 To make a distinct statement in a bathroom, the Reo Vessel Lav can't be surpassed. With arched sides and a deep oval sink, Reo Lavs have a personality all their own. If a round vessel sink is required to create a standout guest bathroom, we also offer several options: the Tempo, Luna and Monet sinks.
"There are an abundance of stylish lavatory options we create, including the Verona pedestal sink and the Razionale above counter vessel lav," says Adriana Miller, product manager for Mansfield Plumbing. "The Verona is a smaller pedestal sink primarily used in small secondary bathrooms. The clean simple lines of the Razionale make it a favorite for homeowners looking for a minimalist contemporary shape. This sink was created to meet the growing trend in square styled vessels for the home.
"No matter which 'lavish lav' is selected, homeowners have options with Mansfield for quality-crafted lavatories that can be found in drop-in, under counter, above counter, vanity tops and pedestal styles."