Part-Time Cleanup Employee Becomes Company Vice President
PERRYSVILLE, OHIO – Focused individuals eager to accelerate in a company environment have the opportunity for long-term careers with solid compensation in a manufacturing setting. That's the message leaders at Mansfield Plumbing are conveying to potential employees.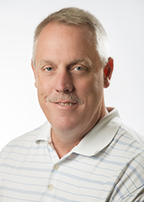 As an example, company president Jim Morando cites Paul Stover, who started as a part-time cleanup person with Mansfield Plumbing 23 years ago and rose through the company to become vice president of manufacturing.
"This is the life story of how dedication and hard work can result in strong personal success," says Jim Morando, president of Mansfield Plumbing. "Paul came to us in 1993 with a willingness to grow with our company. As a result, he tackled every challenge presented to him and has become an incredibly valuable part of our team."
Promoted to vice president of manufacturing in November of 2013, Stover is now responsible for the entire sanitaryware manufacturing operation at the company's Perrysville, Ohio facility. His days are filled with scheduling, cost and safety activities, along with a focus on continuous improvement methodologies, training and production levels of the toilets and lavatories manufactured at the facility.
"I never really had the thought of moving up through my career," says Stover, a resident of Danville, Ohio. "My wife and I had started a family and I was in search of long-term employment that would support us through the years. I had heard Mansfield was a good place to work with strong benefits. My career progressed naturally over time because this company provided me with many opportunities to learn and grow within the organization."
Because Stover has done almost every job in the facility during his time with the company, he believes he's able to gain the trust of current employees and understand their roles.
"Without a doubt, having experienced the day-to-day operations on the production floor makes me a more valuable leader," says Stover. "I've had hourly employees come to me and ask how they could progress in our company as I did. I tell them to take advantage of opportunities offered and don't be afraid to fail or take risks. Be at work every day and give your best effort to everything you do.
"Set high standards for yourself in ethics and honesty, and treat everyone fairly. Strive to do the right thing above all else and you will be successful. This company honors people who are not afraid to follow their dreams and set the bar high. How else could a person start out as a cleanup person and end up as a vice president?"
Stover's remarks come at a time when the company is searching for its next generation of leaders. A wide variety of positions are currently available with Mansfield Plumbing in its facilities throughout Ohio and in Texas.
"Manufacturing careers aren't generally glamorous, but when you align with a company that believes in their employees and takes care of them it's easy to turn a job into a lifelong career," says Stover. "At Mansfield Plumbing we work together as a team towards a common goal. That single element makes this career rewarding."
Mansfield Plumbing precision manufactures millions of pieces of sanitaryware and bathware each year at its facilities in Perrysville and Big Prairie, Ohio and in Henderson, Texas. Founded in 1929, Mansfield Plumbing, which is owned by Corona, is a leading producer of top-quality, high-design, performance plumbing fixtures and fittings for use in residential, commercial and institutional markets. For more information, visit www.mansfieldplumbing.com or call 877-850-3060.
###